Shahid Afridi Foundation Receives 1st Mobile Health Care Unit from Master Group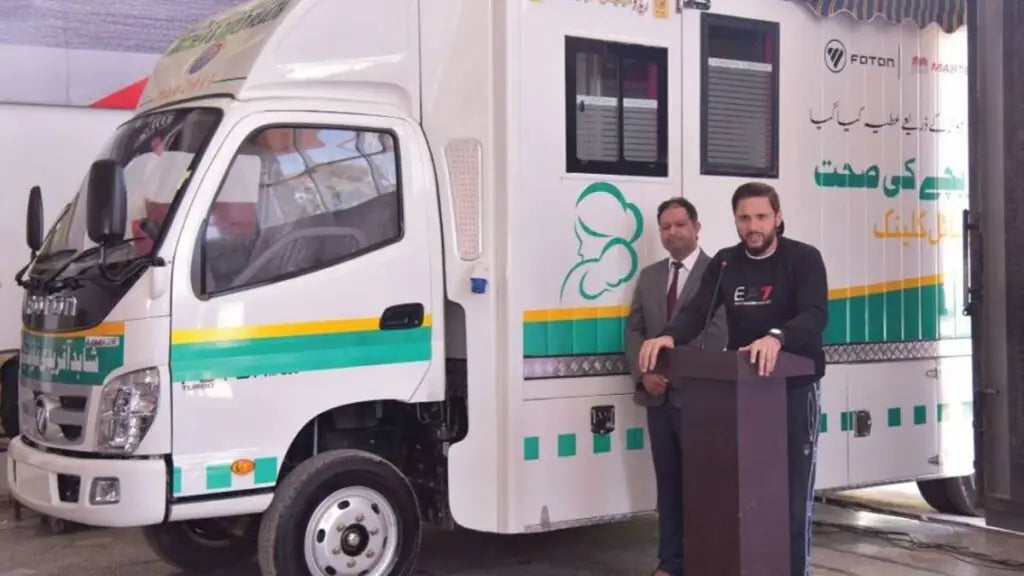 The Master Group of Industries, which includes the well-known companies Master Motor, Foton, and Master MoltyFoam, has announced that it would provide the Shahid Afridi Foundation with the first fully-fabricated Foton M-280 Truck equipped with a Mother and Child care facility unit. The generosity is meant to help women and mothers in the Chakwal-Balkasar area, as well as their unborn children, babies, and young children, get access to and receive healthcare. The celebration took place at Master Capital Motors, a Master Motor dealership in the Pakistani capital of Islamabad's Turnol neighborhood. Prominent figures such as Shahid Afridi, Samir Malik (CEO of Master Motor), Raza Ansari (COO of Master Motor), David Lee (Regional Head of Foton China), Hasan Sultan (Chairman of REDO Foundation), and Sohail Ahmad (CEO of Ahmed Medix) were present.
The CEO of Master Motor, Mr. Samir Malik, spoke at the event, and he stated, "The mission of Master Group of Industries is to encourage growth and prosperity throughout Pakistan to construct a brighter future." He lauded Shahid Afridi and his group for their efforts to aid disadvantaged people in Pakistan by bettering their access to healthcare, education, clean water, sports therapy, and emergency relief. He went on to explain how this facility can help lower the region's shockingly high infant mortality rate (ranging from 42 to 62 fatalities per 1,000 live births).
Shahid Afridi said he planned to focus his assistance efforts on inaccessible areas because of transportation and logistical challenges. He elaborated that it was his hope that one day a hospital facility like this would be operational, bringing much-needed medical attention to otherwise unreachable regions. Thanks to Master Motor, Foton, and Master MoltyFoam, we were able to make this dream a reality today.
This Foton Master Mother and Child Care Unit is built on a Foton M-280 Truck and will provide free services to about 300 communities within a 50-kilometer radius of Chakwal to Balkasar. The mobile medical clinic has a number of advanced diagnostic tools, including an Ultrasound machine and blood, urine, and chemical analyzer. It aids in delivering a complete clinic solution to moms and newborns in these far-flung places, where women and children have few transportation alternatives and no access to adequate medical treatment. The Foton Health Care Unit will facilitate illness testing, instantaneous issue identification, and lifesaving treatment.