Next Generation of Sleep Comfort: Master Celeste Introduces 2 in1 Mattresses in Pakistan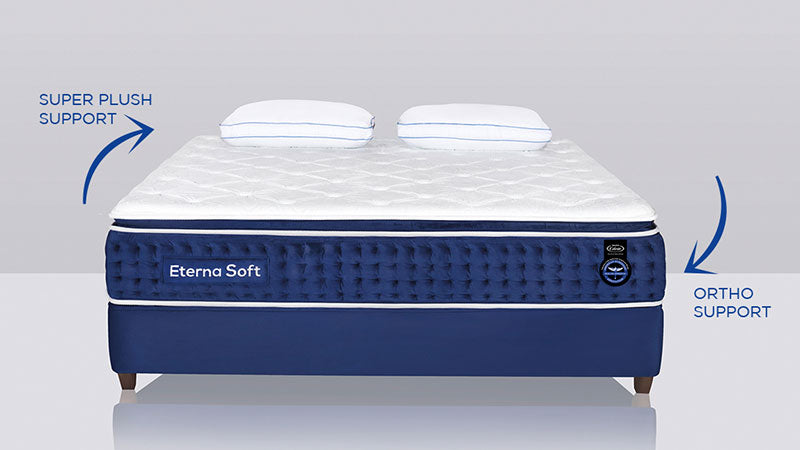 Should I get a firm or a plush mattress? What if a luxurious mattress begins to give you backaches? What if I couldn't get my body used to a solid surface?
These inquiries have a significant impact on our decision to buy a mattress, and as a result, we frequently choose mattresses that are inadequate for our needs. For the first time in Pakistan, a brand introduced a 2in1 mattress line to help us all avoid making the incorrect decision, challenge common myths about sleeping surfaces, and provide a little extra. Yes, 2in1 mattresses are now on the market thanks to Pakistan's "Master MoltyFoam and Celeste," the country's first foam and spring mattress manufacturer.
The following are our top selections from the Master Celeste 2in1 mattress based on the features, usefulness, comfort, quality, and durability range.
Eterna Soft:

Master Celeste's beloved soft mattress, Eterna Soft, now comes with a lot more. The updated Eterna Soft is cleverly engineered to offer two comfort levels, plush and firm. The Eterna Soft mattress combines the pleasure of plush and firm sleeping surfaces in one mattress thanks to the cutting-edge technical techniques used in its production.
The combination of high-density foam, tenacious pocketed springs, and premium velour fabric coated with Master Fresh Guard technology enhances the mattress' appearance and feel, making it the ideal choice for opulent bedding.
Features and Specifications:
Deep quilted mattress with premium HD foam;
Pillow top for additional padding;
Compact pocketed springs to provide the best support;
Plush Velour Fabric
Mattress with a 2-in-1 design that combines plushness and firmness;
Get hold of this powerful comfort device right away!
Eterna Firm:

As the name implies, Eterna Firm is a haven for fans of firm mattresses. With a simple switch, the innovative 2in1 function allows Eterna Firm to deliver firm and orthopedic support, creating a unique blend of support and real luxury. It's the ideal answer for people who need solid support or who have orthopedic problems like back pain or joint discomfort.
Specifications and Features:
Extra Firm Support on one side and Orthopedic Support on the flip side.
Treated with Master Fresh Guard Technology.
Approved by the American Orthopedic Association.
2 in 1 - Dual Sided Firmness in One Mattress.
Compact Pocketed Springs.
Deep Quilted Mattress with Quality HD Foam.
Superior Quality Breathable Fabric for Temperature Regulation.
Obtain the benefits of hard surfaces in a single mattress.
Classique Executive:

Classique Executive is a cleverly flexible sleeping option with a soft, orthopedic surface. Simply flip your mattress over to choose between a medium-firm or orthopedic sleeping surface if you can't decide between a luxurious plush and an orthopedic mattress. Master Celeste Classique Executive is the ideal answer for you. The high-density foam gives conformance, while Celeste's premium springs provide focused support for a restful night's sleep. For greater comfort, it limits the transmission of motion from one end to the other.
Specifications and Features:
Pocketed resilient springs
Exquisite Knitted Material
Premium Fabric That Is Breathable
Stabilizing Reflex Foam
2 in 1: Flip to select an orthopedic or medium-firm surface
Master Fresh Guard Technology treatment
The American Orthopedic Association has approved it.
Enjoy the best Classique Executive
Celeste Memory:
A lot of people prefer memory foam mattresses because of its outstanding conforming qualities. But for optimum support, memory foam must be combined with high-quality resilient springs. Another multipurpose mattress that incorporates the 2in1 feature for better comfort and support is Celeste Memory. The temperature of the mattress is always kept under control thanks to the air regulation provided by the luxurious knit fabric with antibacterial qualities.
Specifications and Features:
Memory Foam, superior motion cancellation, superior quality breathable fabric for temperature regulation, quality resilient pocketed springs, two-in-one orthopedic support on flippable sides of the mattress, approval from the American Orthopedic Association, and treatment with Master Fresh Guard Technology are all features of this mattress.
The new 2in1 Celeste Memory offers the highest orthopedic support and silky comfort.
Bravo Executive:


High-density foam and resilient Bonnel springs are strategically positioned to provide a 2-in-1 mattress that offers historically firm and ortho support with a single flip. Its distinctive form provides support to the lumbar area, allowing it to aid in pressure and tension relief.
Specifications and Features:
Firm and orthopedic support
Two comfort levels in one mattress
Quilted design
Supportive Reflex Foam
Resilient Bonnel coils
360-degree stretch
Master Fresh Guard Technology
Approved by the American Orthopedic Association
For more excellent sleep and health, invest in your sleeping solutions! The new 2in1 line from Master Celeste is carefully designed to promote general public welfare. To provide a better resting experience, they provide the advantages of orthopedic and fluffy mattresses. These mattresses' unique manufacturing processes increase their longevity and lifelong precision support. You should definitely try out these clever ideas, in our opinion!