Master Changan Motors signs contract with Orient power system to install a 2.5MW solar project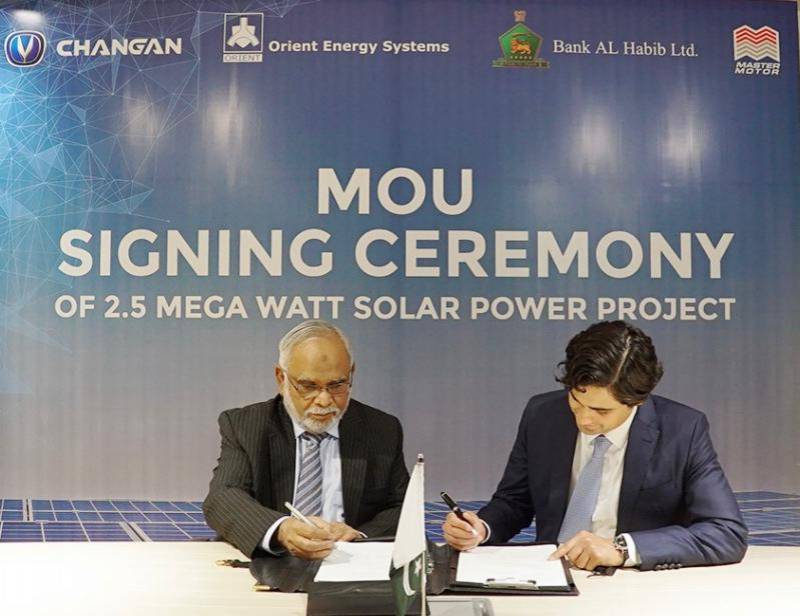 An agreement for Orient Power System to build a 2.5MW solar project for Master Changan Motors has been signed. KARACHI - Master Changan Motors Company Limited (MCML), a world-renowned automaker, is pleased to share the news that it has contracted with Orient Power System to build a 2.5MW solar power project at the Changan manufacturing site located in Port Qasim Karachi. The project's primary banking arranger is set to be Bank Al Habib.
This initiative will help Master Changan Motors reduce its carbon footprint and demand on the national grid, ushering in a new era of environmentally responsible production of automobiles.
MCML Chief Operating Officer Samir Malik stated, "In recent years, Pakistan has been one of the most negatively affected nations by global warming, dramatically altering the weather patterns that have resulted in floods, heatwaves, a water crisis, and much more." A massive energy shortfall has also plagued Pakistan, wreaking havoc on the country's economy and threatening the lives and livelihoods of its people.
At Master Changan Motors, we passionately care about the well-being of our community, environment, and future generations. We want to become Pakistan's first carbon-neutral business by 2025, and our goal is to become the country's leading green automotive manufacturer.
Among Pakistan's automobile industry, this 2.5 MW solar power facility represents one of the highest adoptions of renewable energy. The installation is for MCML's own use and will reduce the company's annual carbon footprint by a massive 3.5 million metric tonnes, thanks to the production of clean, renewable power. That makes Changan cars among the greenest on the Pakistani market.
A member of the Master Group of Industries, Master Changan Motors Company Limited was founded in 2018 and is an ISO-certified vehicle assembly production facility. Since its founding in 1963, Master Group of Industries has become one of Pakistan's best-known and most-loved brands. It serves many industries, including the bedding and sleep industry (through Master MoltyFoam & Master Celeste), the workplace (through MasterOffisys), the textile industry (through MasterTextiles), the energy sector (through MasterWind Energy), the chemical sector (through MasterThermoshield), and the automotive sector (through MasterMotor & Procon Engineering).
Since its founding in 2002, Master Motor has launched many well-known automobile brands, including the Foton, Mitsubishi Fuso, and Yutong Master. Since then, the firm has kept up its tradition of meeting the needs of its customers in the bus, medium-duty vehicle, and heavy-duty truck markets. Under the Auto Policy 2016-2021, Master Changan Motors Limited, a joint venture between Master Motor and Changan automotive, invested $100 million to get Greenfield Status. This was the highest investment ever made by an Original Equipment Manufacturer (OEM) in Pakistan. In addition to spending $36 million introducing the Alsvin to Pakistan, the JV plans to offer more intriguing models by June 2021.
For the last decade, Changan has been rated China's best-selling domestic automaker. Because the firm devotes 5% of its yearly sales to research and development, it possesses the most advanced automotive technology available. It is thus the first to offer Level 3 Autonomous Driving to China. Changan is well on its way to electrifying all of its models by 2022, and in the meanwhile, it produces a broad variety of attractively designed and high-quality sedans, SUVs, MVPs, and LCVs. Master Changan Motors is planning a rollout of these electric cars in Pakistan as part of their next phase of expansion.