Bookme and Master MoltyFoam Offer Exciting Deals for Customers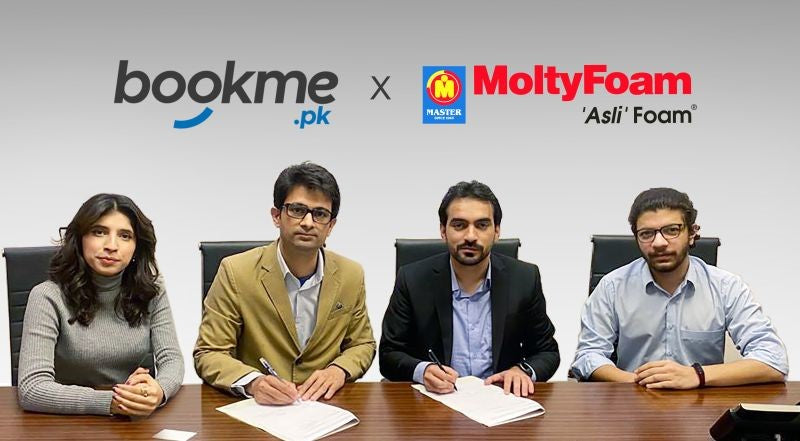 Master MoltyFoam has joined hands with Bookme.pk through which we are offering amazing discounts to our customers. The MOU was signed by Mr. Muaaz Zubairi and Mr. Syed Waqas Dawar. Together, we are committed to making the online shopping experience of our valuable customers easier, quicker, and more lucrative.
Master MoltyFoam has been a pioneer in the mattress industry for over 50 years. The years of experience, profound knowledge, and skilled team have paved the way for continuous innovation to provide the most restful sleep. State-of-the-art technology, finest craftsmanship, strict quality controls, and continuous consumer interactions ensure that MoltyFoam achieves the highest level of perfection in its products.
The criteria of the offer are as follows:
Bookme customers buying any ticket from the website would get a 10% flat discount for the Master Molty Foam website on all products (promo would be given one time to each customer). Master MoltyFoam customers buying anything for PKR 6,000 and above would get a 15% discount on bus tickets. Master MoltyFoam customers buying anything worth PKR 10,000 or above would get a 15% discount on bus tickets or a 5% discount on Domestic Air tickets
We at Master MoltyFoam, are committed to making our customer's shopping experience stress-free while offering the best incentives in all the ways we can. With our recent collaboration with Bookme.pk, we are thrilled to bring our mutual commitment to customer satisfaction and make their journey memorable. We are cognizant of the fact that the happier and well-served the customers are, the more reliable a brand is in the eyes of the public. With this collaboration, both us and Bookme.pk will usher in a new era of comfortable shopping for our clients.
The duration of these offers is two months.