Celebrating Success: MoltyFoam's Award-Winning TVC at Effie Awards 2022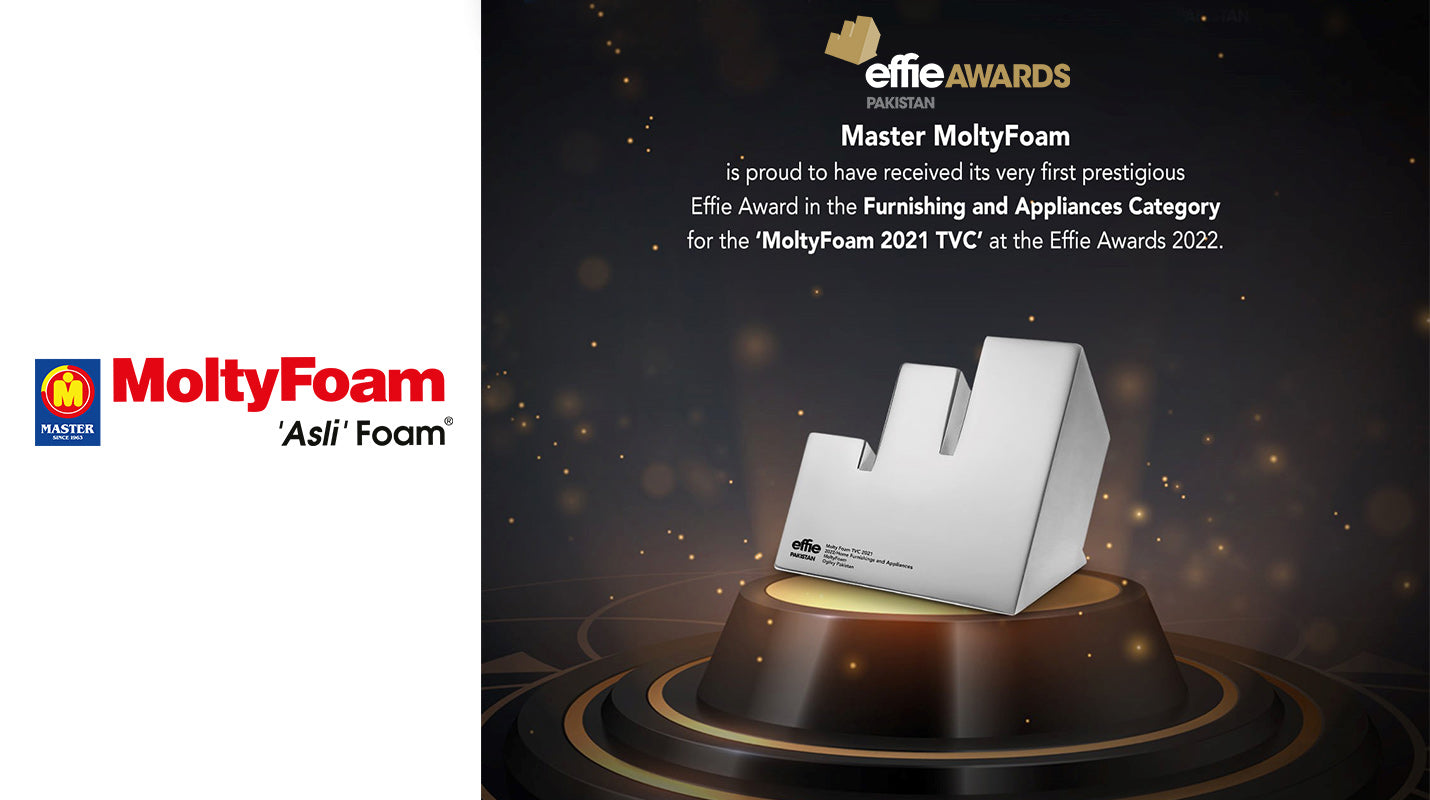 We at Master MoltyFoam, are thrilled to announce our recent achievement at the prestigious Effie Awards 2022. In the "Furnishing and Appliances Category," MoltyFoam's captivating TVC for 2021 emerged victorious, earning us a well-deserved award. This momentous occasion is a source of immense pride for us as a brand, and we are excited to share our success with our valued customers and supporters.
The Award-Winning MoltyFoam 2021 TVC
MoltyFoam's 2021 TVC, which captivated the attention of industry experts and consumers alike, received an esteemed award at the Effie Awards 2022. The TVC showcased MoltyFoam's commitment to quality, comfort, and innovation, presenting the brand's range of mattresses engaging and visually stunningly. Through creative storytelling, the TVC effectively conveyed the key features and benefits of MoltyFoam mattresses, leaving a lasting impression on viewers.
Recognizing Excellence: The Significance of Effie Awards
Effie Awards, known as the "Oscars" of the advertising and marketing industry, celebrate excellence in effective and impactful advertising campaigns. The awards recognize campaigns that showcase creativity, deliver tangible results, and drive meaningful business outcomes. Winning an Effie Award is a testament to the effectiveness and brilliance of the campaign, underscoring the brand's ability to connect with its target audience and generate desired results.
MoltyFoam's Commitment to Excellence
MoltyFoam's success at the Effie Awards 2022 reflects the brand's unwavering dedication to excellence in the furnishing industry. MoltyFoam has been synonymous with superior quality, comfort, and innovation for decades. Their innovative product range and effective marketing efforts have established themselves as a trusted name among consumers seeking the perfect sleep experience. The award-winning TVC further solidifies MoltyFoam's commitment to delivering exceptional products and memorable advertising campaigns.
Sharing the Joy: MoltyFoam's Appreciation for Customers and Supporters
We recognize that our success is a result of the continuous support and loyalty of our valued customers and supporters. We express our gratitude to all those who have placed their trust in the brand and have made it possible for us to achieve this prestigious recognition. Sharing the joy of this award with their customers, we at MoltyFoam affirm our commitment to providing the best possible sleep solutions and experiences.
Conclusion
Master MoltyFoam's triumph at the Effie Awards 2022 in the "Furnishing and Appliances Category" for their remarkable 2021 TVC signifies a moment of pride and accomplishment. This achievement highlights MoltyFoam's commitment to excellence, innovation, and effective advertising.
As we continue to raise the bar in the furnishing industry, we remain dedicated to delivering superior quality and comfort to our customers. This award serves as a testament to our exceptional craftsmanship and creative storytelling, solidifying our position as a leader in the market.