Changan Automobile rolls into Pakistan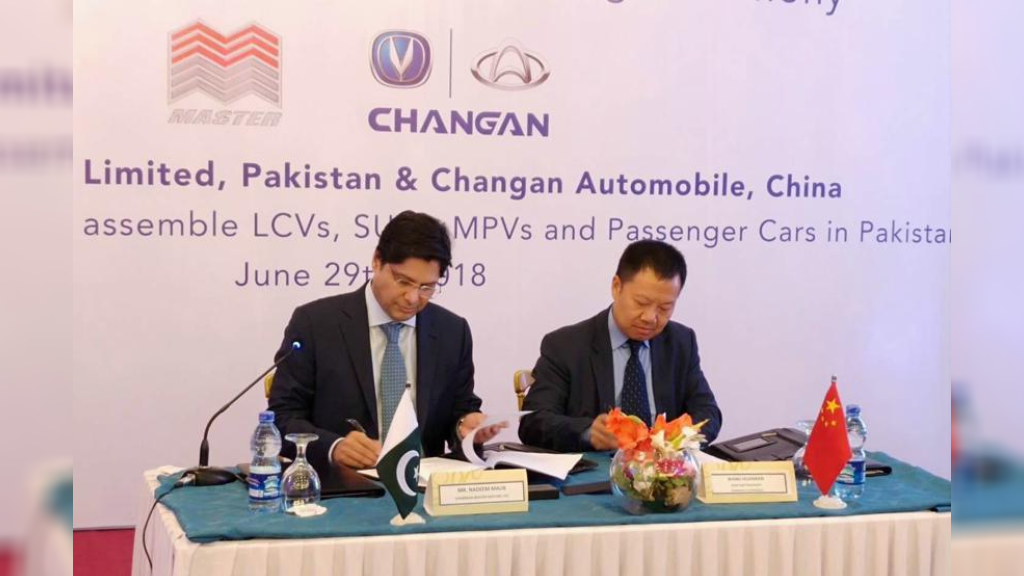 Changan Automobile and Master Motor recently signed a joint venture frame agreement to sell Changan vehicles in Pakistan.  A number of Master Motor representatives attended the signing ceremony including Executive Director Nadeem Malik, Project Director Danial Malik, Chief Financial Officer Nadeem Khan, and Marketing Director Shabbir Uddin.  Changan was represented by Overseas Department Chairman Wang Huanran and Pakistan Project Director Yao Chongyan.  More than 20 local journalists were on-hand for the event.
The ceremony included speeches from Mr. Wang and a Pakistani customer.  A Changan promotional video was shown to convey the company's culture and R&D capabilities.
Mr. Wang mentioned that as China's only all-time strategic partner, Pakistan participates in an ironclad relationship between the two countries.  And with the momentum of One Belt, One Road initiatives and China-Pakistan Economic Corridor projects, the parties believe that the demographic advantage will gradually show its benefits.  According to the relevant authority's forecast, Pakistani automobile sales volume will potentially reach 500 thousand annual units by 2030.
Changan had already selected Pakistan as a global strategic market and right-hand drive export center.  Master Motor has now been selected to be Changan's long-term partner.  This alliance will establish a joint venture company and build a new factory which has a capacity of 30 to 50 thousand units per year. To ensure the long term and sustainable development of the joint venture, Changan will launch a series of light commercial vehicles, SUVs, and passenger vehicles through the JV.  New energy vehicles will be introduced at a suitable time.
Under sincere and close cooperation, Changan believes the parties will provide "High quality, joyful experience" products and services to build Changan's brand awareness and reputation.